K9 Web Protection is a content-control desktop application, developed by Blue Coat Systems, that empowered parents, schools and other organizations to protect children from spyware, malware, adult content and other risky interactions. Unfortunately, as a of May 2019 development and support was discontinued by its parent company – Symantec.
If this affects you, then CleanBrowsing is the perfect alternative for your network.
CleanBrowsing, like the K9 Web Protection application, is technology designed to help you take control of what happens on your network. Unlike K9 Web Protection, it is not a desktop application; instead it makes use of the Domain Name System (DNS), specifically DNS resolvers to help take control of the activity on any network.
How CleanBrowsing Works
Every request, on every device, makes use of the DNS system to locate where a domain name (e.g., https://cleanbrowsing.org) exists on the internet. DNS resolvers were built to lookup the destinations of these domains and help direct requests so that web users can access the sites they are interested in. It's simple to use and makes use of a system that you don't have to maintain, configure or update; this is all done for you dynamically via the CleanBrowsing network.
Getting started is straight forward, and we have a Getting Started page designed to help you in the process. You can make the changes locally or via your router, and we have Guides that will help provide additional, detailed, instructions for a number of different environments.
About CleanBrowsing
We created CleanBrowsing in 2018, but started building the technology back in 2016. Our intentions were to create a solution that we can consume for our own kids. As parents to preteens, we were faced with the same challenges most modern parents are faced with – devices. This need to be constantly on, video games, school work, need to constantly be researching and finding new information. As technologists, we want our kids to take full advantage of the power of the internet, but want to put some guard rails so that they can do so safely.
CleanBrowsing is similar to K9 Web Protection in our beliefs that this type of network control should be given to parents and schools in such a way that it is easy to use, affordable and accessible. It's why we've created a Free Forever tier that does exactly that.
CleanBrowsing Free Filters
We love free models, it enables us to positively affect as many devices as possible. So that is what we built; we created three filters designed to fit the needs for most users.
Security Filter
Blocks access to phishing, spam, malware and malicious domains. Our database of malicious domains is updated hourly and considered to be one of the best in the industry. Does not block adult content.
Adult Filter
Blocks access to all adult, pornographic and explicit site. It does not block proxy or VPNS, or mixed content sites (i.e., sites like Reddit are allowed). Google and Bing are set to Safe Mode. Malicious and Phishing domain are blocked.
Family Filter
Blocks access to all adult, pornographic and explicit sites. It also blocks proxy and VPN domains that are used to bypass the filters. Mixed content sites (like Reddit) are also blocked. Google, Bing and YouTube are set to Safe Mode. Malicious and Phishing domains are blocked.
One of the features you might really enjoy is our investment into into safe experiences. We are one of the few that will enable Safe Mode at the DNS level for services like Google, Bing, Yandex, and any other service provider that will make it available. This matters because these methods by design are configured in the application and controlled by the user, making them easy to override, by deploying the features at the DNS level it makes harder for individuals (kids) to bypass the configuration, but easier for organizations (parents) to take control of what happens on their network.
If you want more control of your network we do offer paid plans. Paid plans are for those that are looking for more control of their network. Some of the features you'll enjoy are custom block pages, advanced reporting, and expanded filtering options.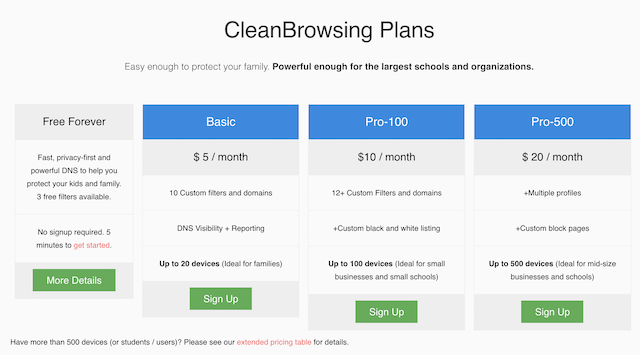 So if you're looking for an alternative to K9 Web Protection, we encourage you to give CleanBrowsing a try. Feel free to contact us at support@cleanbrowsing.org if you have any questions.