Upgrade OpenDNS to CleanBrowsing
Upgrade OpenDNS to CleanBrowsing
CleanBrowsing, like OpenDNS, is a DNS based resolver that allows you to take control of your network (i.e., it offers content filtering). CleanBrowsing's technology is agnostic to the type of network, whether it's your home or a large enterprise, the technology functions the same. It's why we offer transparency in the way we do business.
Yes, CleanBrowisng is an alternative to OpenDNS. It works in the same exact manner; a user / organization must switch their local DNS resolvers to point to our network.
We DO NOT use an ad-based model, or do anything with your data; we believe things like privacy and security are core tenets of anyone going online, as such employ a minimalist approach to recording and storing information.
Our beliefs are built on a simple premise, you can't steal what you don't have.
How Do you Make Money
We operate Software as a Service (SaaS) model. If you are a parent, or organization, you have the ability to subscribe to one of our monthly or annual plans. The economics are very simple, they are based on number of devices on your network.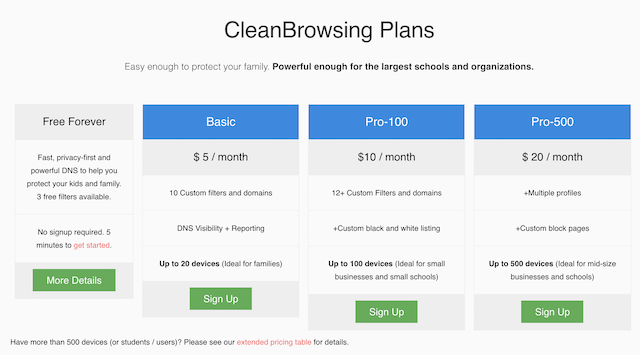 Paid plans are for those that are looking for more control of their network. Some of the features you'll enjoy are custom block pages, advanced reporting, and expanded filtering options.
CleanBrowsing Free Filters
We love free models, it enables us to positively affect as many people as possible. So that is what we built; we created three filters designed to fit the needs for most users.
Security Filter
Blocks access to phishing, spam, malware and malicious domains. Our database of malicious domains is updated hourly and considered to be one of the best in the industry. Does not block adult content.
Adult Filter
Blocks access to all adult, pornographic and explicit site. It does not block proxy or VPNS, or mixed content sites (i.e., sites like Reddit are allowed). Google and Bing are set to Safe Mode. Malicious and Phishing domain are blocked.
Family Filter
Blocks access to all adult, pornographic and explicit sites. It also blocks proxy and VPN domains that are used to bypass the filters. Mixed content sites (like Reddit) are also blocked. Google, Bing and YouTube are set to Safe Mode. Malicious and Phishing domains are blocked.
One of the features that really makes our free services stand out from other DNS resolvers is our deep investment into safe experiences. We are one of the few that will enable Safe Mode at the DNS level for services like Google, Bing, Yandex, and any other service provider that will make it available. This matters because these methods by design are configured in the application and controlled by the user, making them easy to override, by deploying the features at the DNS level it makes harder for individuals (kids) to bypass the configuration, but easier for organizations (parents) to take control of what happens on their network.
CleanBrowsing Effectiveness
The area that sets CleanBrowsing apart from the other alternatives is our investment to our categories. We have built some pretty cool technology designed to help us more effectively detect issues, and coupled that with our experience in the security domain.
Don't take our word for it. In 2018, an independent security researcher released a report highlighting test against a number of the more popular DNS resolver alternatives.
His tests tested some of the most common resolver alternatives on the market agains Phishing (Security) issues. The filters tested include:
Quad9
OpenDNS
CleanBrowsing
Norton ConnectSafe
ComodoSecure
Yandex
His tests can be broken into two categories:
Not Blocked: Means the provider did not block the site. If someone is on your network, and you're using this resolver, they would be able to access this site.
Blocked: Means the provider did block the site. If someone is on your network, and you're using this resolver, they would be safe.
TEST 1: OPENPHISH – Mixed Bad Stuff

TEST 2: PHISHTANK – Real Time Bad Stuff
TEST 3: PHISHTANK – Old Bad Stuff
This is only a snapshot in time. We encourage you to test it for yourself. There is a site known as DNS Blacklist. If you ever run into a site you believe should be blocked (maybe for adult content or security issues) leverage this scanner to test the effectiveness of some of the most common resolvers. If you find an issue where we're not blocking something we should, please send us an email at support@cleanbrowsing.org.
Our effectiveness comes from our commitment to our own families. We built CleanBrowsing as an alternative to OpenDNS on our own networks. It was integrated by default on our ISP routers, but we realized that adult and malicious content was still making its way onto our networks and kids machines. To address this, we built our own solution; a solution which coincidentally filled a much needed gap in the market.
So if you're looking for an alternative to OpenDNS, we encourage you to give CleanBrowsing a try. Feel free to contact us at support@cleanbrowsing.org if you have any questions.
Verify Connection & Troubleshooting