Browsers have introduced a way to encrypt DNS at the browser level, ignoring system level configurations. The introduction of this feature is based around security and privacy.
This feature, however, brings with it challenges for individuals and organizations alike. It creates a mechanism that can be used by users of the network (e.g., children) to circumvent the controls deployed to filter content.
To help, we have created a file that can be used to disable DOH in the three common browsers – Chrome, Firefox and Microsoft Edge. This configuration does require a reboot, please be sure to close all apps before starting so that you can safely reboot after configuring.
Step 1: Download the compressed file (.zip) file, save to the Desktop;
Step 2: After downloading, Double-click the .zip file;
Step 3: It will open a windows explorer and show you a .reg file.
Step 4: Double-click the .reg file;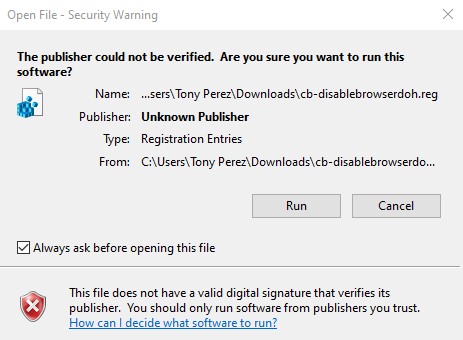 Step 5: It will prompt you, requesting confirmation to proceed. Say "yes"
Step 6: The final prompt will tell you that it was successfully installed:
Step 7: Restart your computer.
A successful configuration will disable the option for a user to enable DOH in their respective browser. It will look something like this: