These instructions will provide guidance on how to configure CleanBrowsing on Actiontex MI424WR. It uses generic instructions based on when the router was last configured.
Step 1: Access the router
Log into your router's browser-based utility by entering http://192.168.1.1 or your default configuration IP into a browser.
Log in as the administrator.
Step 2: Navigate to Network Connections menu
Click on the Network Connections option in the menu.

Step 3: Modify Broadband Settings
Click the edit action for the Primary 'Connected' Broadband Network (Broadband or Coax) rule.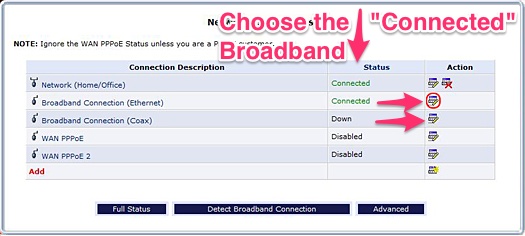 Click the Settings button.
Step 4: Change your DNS type.
Enter CleanBrowsing addresses in Primary DNS Server and Secondary DNS Server fields.
The CleanBrowsing Family IP's are:

185.228.169.168
185.228.168.168
Note: If you have a paid plan use the DNS IPs provided in your account.
Click Ok to save your settings