Activating CleanBrowsing on your Google Chrome Book
Google Chrome books are a little different than your normal desktop / notebook Operating System (OS). It's built on a UNIX operating system, but it's configurations occur in the Google Chrome browser and they introduce their own command line known as crosh. This article will apply the DNS changes using the Google chrome option.
Step 1: Open Google Chrome browser
Open Google Chrome, navigate to chrome://flags in your address bar. Find the following flag "Experimental static ip configuration", and enable it.
If this flag is not present, skip to step 2.
If you have the experimental static IP configuration option you'll need to restart. Scroll the bottom and you should see an option that reads restart now. You have to do this to proceed to step 2.
Step 2: Configure CleanBrowsing DNS in Chrome
Open the settings option in your browser. You can do this by selecting the three dots (or layers) found at the top-right corner of your Chrome browser.
Once the settings option is selected, depending on your version of the browser you'll see it starts with a Network panel, followed by Bluetooth, People, etc... (subject to change based on version).
Click on your Network.
Note: Depending on your version, you might find an internet connections option. If so, click on that and click on the Network tab. Select custom name servers and enter the CleanBrowsing DNS IP.
If you're on the newest version of the browser, you'll likely have to click on the network name (SSID) twice. You are looking for Network. The design might be presented vertically instead of horizontally as expected on MAC's or Window's machines.
The default configuration is set to Automatic name server. You want to select Custom name servers. You don't want the device to pull DNS IP from the router, you want it to be set locally.
After selecting Custom Name Servers you will enter the CleanBrowsing IP's (either the free IP's, or the ones you were provided in your paid account.)
The CleanBrowsing IP's are:
185.228.169.168
185.228.168.168
Note: If you have a paid plan use the DNS IPs provided in your account.
The new Google Chrome Settings page is a little weird, it doesn't have an "Apply," "Ok," or any other option to verify it's being set. The easiest way is to click the back button in the settings modal and it should save.
Final Step: Verify Configuration
The final step is to verify the DNS configuration is working. You can use DNS Leak Test to help with this.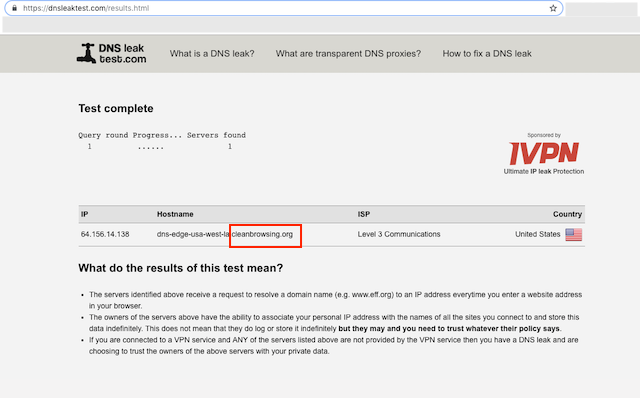 You will run the Standard Test. The output should show CleanBrowsing in the response.
It is advised to take the time to flush your DNS resolver cache on your local machine and browser caches to ensure that your new DNS configuration settings take affect.
It can take 10 - 15 minutes for the change to take affect, be patient. The additional time is the time required for your computer DHCP Lease to get the new DNS. If you disable your Wifi and re-enable, it will force it right away (you can also reboot the router).
If you experience issues please visit our Common Questions and Troubleshooting Guide for more help.