How to change DNS on an Amazon Kindle Fire
Adding CleanBrowsing to an Amazon Kindle Fire
These instructions will provide guidance on how to configure CleanBrowsing on your Amazon Kindle Fire device, specifically using images from the Amazon Kindle Fire 7th Edition. You can find the user guide for this device here (same as 5th edition): https://s3-us-west-2.amazonaws.com/customerdocumentation/EB/Kindle_User_Guide_EN.pdf
Step 1: Navigate to System Settings
First you need to find your way to the system settings. It might look like this on your homescreen:
Step 2: Navigate to DNS Section on the device
Click on the Wireless & Bluetooth option
Click on the Wi-Fi option
Press down on your Network (SSID) (a.k.a WiFi network name) for 3 seconds.
Click Modify network
Select the Advanced Options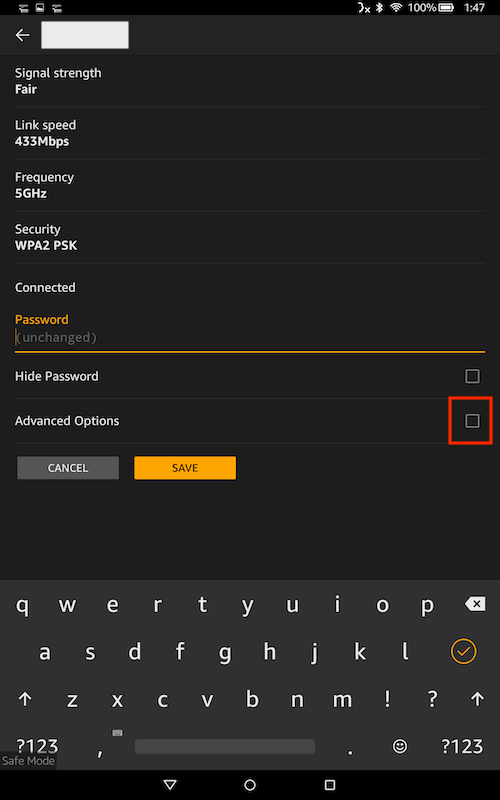 Set your IP Settings to Static, default is set as DHCP.
Step 3: Update DNS Settings
Once you set the IP settings to Static you'll see the DNS Options under DNS 1 and DNS 2. Unlike other devices you will have to assign your device an IP and gateway. When you enable your Static it'll show you an IP, that will be the IP that was already assigned to the device. You should be able to use this.
You will not be able to SAVE until you have manually entered the IP Address and Gateway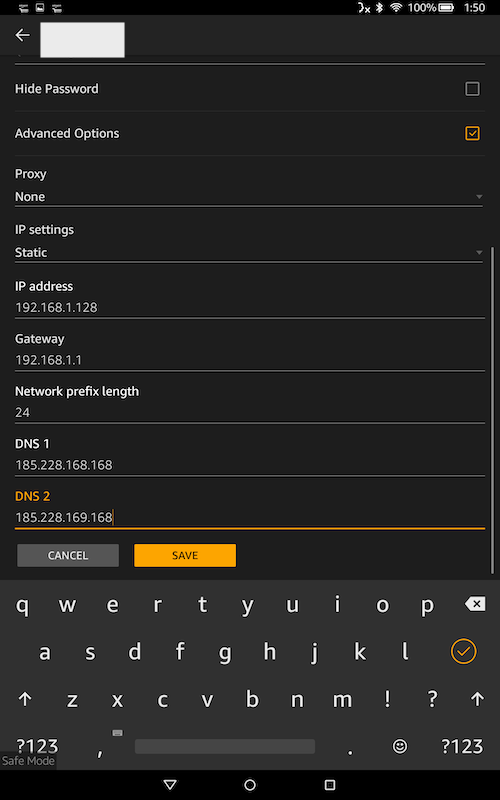 Click on SAVE
Note: If you have a paid plan use the DNS IPs provided in your account.
Step 4: Test DNS Configuration
The final step is to verify the DNS configuration is working. You can do this by using DNS Leak Test.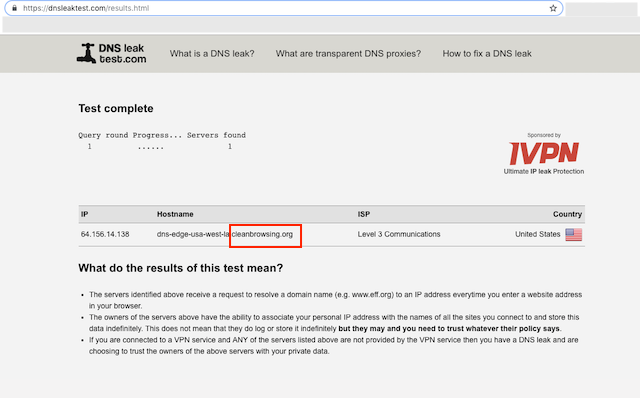 It can take 10 - 15 minutes for the change to take affect, be patient. The additional time is the time required for your computer DHCP Lease to get the new DNS. If you disable your Wifi and re-enable, it will force it right away. To test, try to visit badexample.com and you should be blocked (getting domain not founder error on your browser).